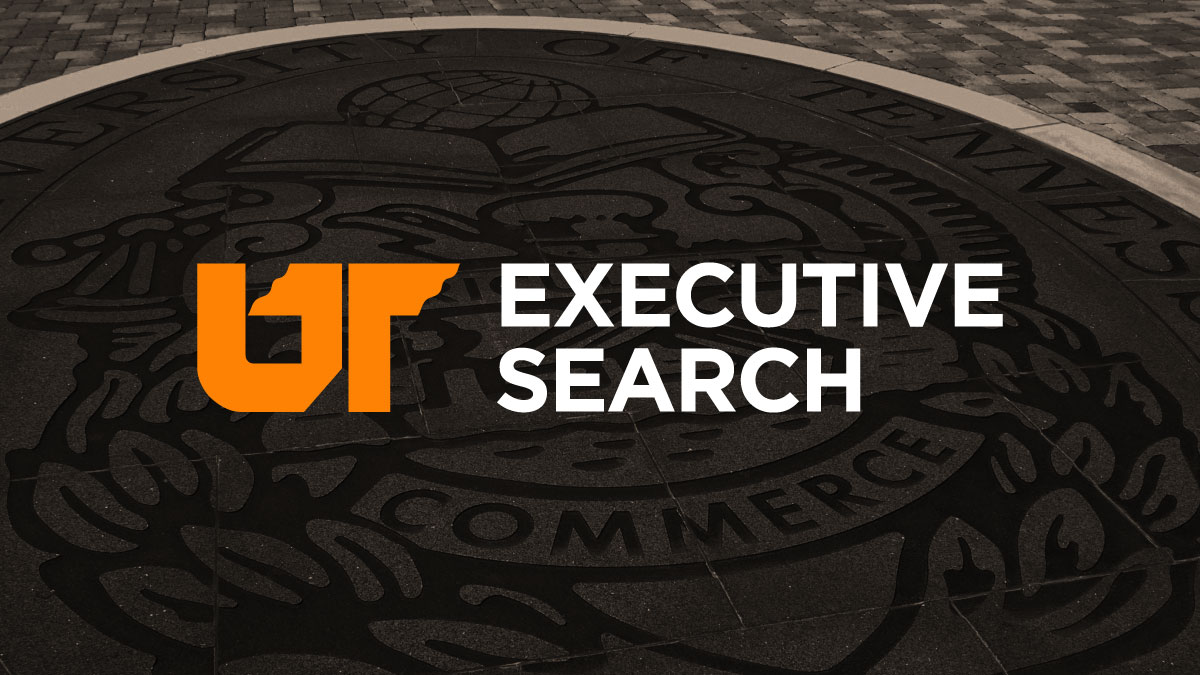 Three finance and business executives with extensive experience in higher education have been named finalists for the University of Tennessee System chief financial officer position. On-campus interviews will begin Sept. 26 in Knoxville. UT President Joe DiPietro is expected to recommend a candidate to the UT Board of Trustees for approval during its Oct. 13-14 meeting in Knoxville.
The finalists will visit Knoxville for meetings with senior administrators, direct reports and chief business officers from across the UT System. Public forums will not be part of the process, but feedback about the finalists is being sought through surveys on the search website. The job description and resumes for finalists also are available online.
"Creating a long-term and sustainable funding model continues to be among our top priorities," DiPietro said. "We've created a plan to maximize effectiveness, efficiency and be more entrepreneurial without hindering efforts to improve the quality of everything we do. As of June, we had already realized $61 million toward a 2017 goal of $68 million in reallocated funds as a result of a self-imposed set of budget boundaries put in place to try and close our funding gap. Outstanding expertise and a lot of hard work have brought us exceptional progress, thus far.
"The individual selected for this critical role will be responsible for building on our progress and enhancing our plans. I look forward to getting to know the candidates in the weeks ahead."
The finalists are:
Brian Hutzley
Vice president for finance and administration and treasurer at Colgate University in Hamilton, New York from 2013 to 2016. Previously, Hutzley served for two years as vice chancellor and chief financial officer of the State University of New York System in Albany and as vice president for business and finance at the State University of New York, Delhi from 2005 to 2011. Before beginning his career in higher education, Hutzley spent 20 years working in the business sector. He was the director of finance and strategy and chief financial officer at Mead/AT-A-GLANCE, a school and office products company, from 1997 to 2005. He also worked as the company's corporate controller for the three years prior. His previous experience includes 12 years working in various positions for AT&T, including director of strategic planning. Hutzley earned a bachelor's degree in accounting from Michigan State University and a master's in business administration from Syracuse University.

David Miller
Vice president for administration and fiscal affairs at the University of Wisconsin System since 2015. Miller previously served as the senior vice president at the UW System for two years. Among other positions held during his 18-year tenure at the UW System, Miller was associate vice president for capital planning and budget, and assistant vice president for university relations. Before transitioning to higher education, he spent time in government relations. He served the Wisconsin legislature for five years as a policy analyst and legislative aide and also worked as a legislative analyst for the Tennessee legislature. Miller earned a bachelor's degree in political science from East Tennessee State University and a master's in business administration from the University of Wisconsin, Madison. 

Charles Perusse
Senior vice president and chief operating officer of the University of North Carolina System since 2011. Previously, Perusse served for three years as the state budget director and six years as deputy director of the North Carolina Governor's Office of State Budget and Management. From 1994 to 2001, he was the senior fiscal analyst for the North Carolina General Assembly's Fiscal Research Division—serving three years as budget coordinator for the state house of representatives. He earned a bachelor's degree in political science from North Carolina State University and a master's degree in public administration from the University of North Carolina at Chapel Hill.
The successful candidate will have oversight of the administration of all financial operations at the University. Primary responsibilities include development of financial and operational strategies; budgeting, accounting and reporting of all operations; enterprise resource planning; investment of University operating and endowment funds; and directing capital outlay and maintenance programs.
To learn more about the search and the finalists, visit http://tennessee.edu/execsearch/cfo/.
Tags:
Chief Financial Officer
,
Executive Searches
,
Featured