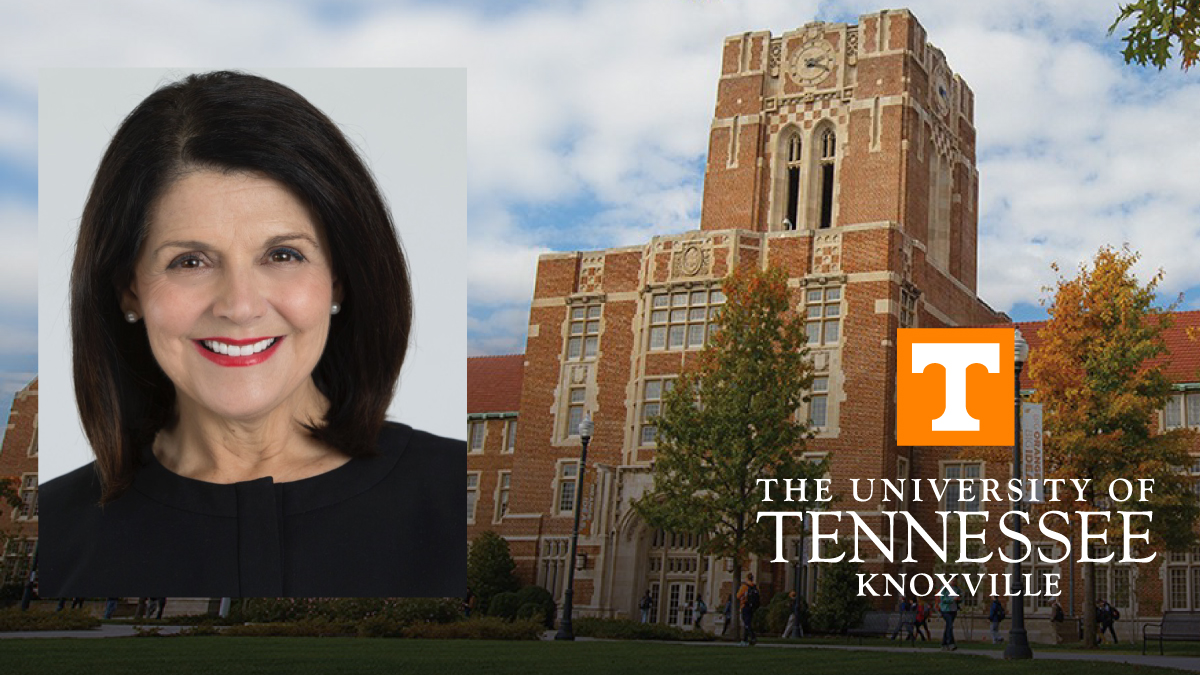 KNOXVILLE – Beverly J. Davenport has been selected by University of Tennessee President Joe DiPietro to serve as the eighth chancellor of the University of Tennessee, Knoxville.
 
DiPietro will recommend Davenport's appointment to the UT Board of Trustees in a special meeting Dec. 15 in Nashville.
 
Pending board approval, Davenport will join UT Knoxville on Feb. 15, 2017. Davenport, currently interim president of the University of Cincinnati, will be the first woman to lead the Knoxville campus.
 

"During a comprehensive national search, Dr. Davenport rose to the top of the candidate pool because of her extensive experience and qualifications. She will be an excellent fit as the next leader of UT Knoxville," DiPietro said. "I'm confident the flagship campus will continue its ascent as a top public research institution under her leadership."
 
Davenport said she is honored to serve as the next chancellor of UT Knoxville.
 
"The excellence and energy on this campus are truly contagious—from record-breaking enrollments to stellar research and innovation programs, to one of the most recognized and respected athletic brands in the nation," she said. "UT's story of success is ready to be told in even bigger and bolder ways. I am inspired by their confidence in my abilities to help them reach their goal of becoming a top-tier public research university."
 
UT Knoxville Chancellor Jimmy Cheek announced his decision to step down as chancellor to return to the classroom in June. Cheek served as chancellor since 2009.
 
"Chancellor Cheek has served us well, and I am grateful for the energy and vision he has brought to the University of Tennessee and our Knoxville campus," DiPietro said. "It is important that we continue the momentum he began."
 
The search began in July 2016 with a committee of faculty, staff, students, UT trustees, alumni and community members chaired by Steve Mangum, dean and professor of the UT Knoxville Haslam College of Business. The committee invited three candidates to campus earlier this month.
 
"Dr. Davenport is a proven higher education leader with a tremendous record of accomplishments across a wide array of initiatives that show her ability to achieve great things," DiPietro said. 
 
Prior to being selected by the University of Cincinnati's board of trustees to serve as its interim president in June 2016, Davenport served as UC's senior vice president for academic affairs and provost for three years.
 
Before her tenure at Cincinnati, Davenport was vice provost for faculty affairs at Purdue University, dean of social sciences at the University of Kansas and chair of the department of communication at the University of Kentucky.  She also spent time in Melbourne, Australia as a Distinguished Visiting Scholar at Chisholm Institute of Technology.
 
Davenport is an accomplished scholar who has authored more than 100 papers and published three books on quality of worklife issues and  workplace civility. She has been the principal investigator or co-principal investigator on more than $19 million in funded research, and she serves on national and local boards including Harvard University's Collaborative on Academic Careers in Higher Education, the American Heart Association's Go Red for Women, the United Way, the Society of St. Vincent de Paul, the non-profit partnership Cintrifuse, investment firm Cincy-Tech and others.
 
She has been recognized for advances in technology-infused learning. Earlier in her career, she was named a University of Kansas Kemper Fellow for Excellence in Teaching, a University of Kentucky Great Teacher, and a Mortar Board and Phi Beta Kappa outstanding professor.
 
A native of Bowling Green, Kentucky, Davenport earned a PhD in communication with a minor in organizational behavior from the University of Michigan, and bachelor's and master's degrees in communication and journalism from Western Kentucky University. Several members of Davenport's extended family live in Nashville.
 
She has two children. Her daughter, Sloan Sypher, graduated from Vanderbilt University with a degree in biomedical engineering and is a graduate student in the University of Cincinnati's School of Design. Her son, Ford Sypher, studied international affairs at Columbia University and served in the 75th Ranger Regiment of the U.S. Army. He now lives in New York City.
 
Additional information about Davenport is at: uc.edu/president/.
 
More on the UT Knoxville chancellor search is at: tennessee.edu/execsearch/ut-knoxville-chancellor/.
 
The University of Tennessee is the state's land-grant, higher education institution and flagship public university. It is comprised of campuses at Knoxville, Chattanooga, and Martin; the Health Science Center at Memphis; the Space Institute at Tullahoma; and the statewide Institute of Agriculture and Institute for Public Service.
 
The University of Tennessee System has a presence in each of Tennessee's 95 counties. Through the combined force of its education, research, and outreach, the University serves students, business and industry, schools, governments, organizations, and citizens throughout the state.
Contacts
Gina Stafford
stafford@tennessee.edu
865-974-0741
823 Andy Holt Tower, 1331 Circle Park, Knoxville, TN 37996
Jennifer Sicking
jsicking@tennessee.edu
865-974-5179
P265 Andy Holt Tower, 1331 Circle Park, Knoxville, TN 37996
Tags:
Beverly Davenport
,
Chancellor
,
Executive Leadership
,
Executive Searches
,
Featured
,
UT Knoxville