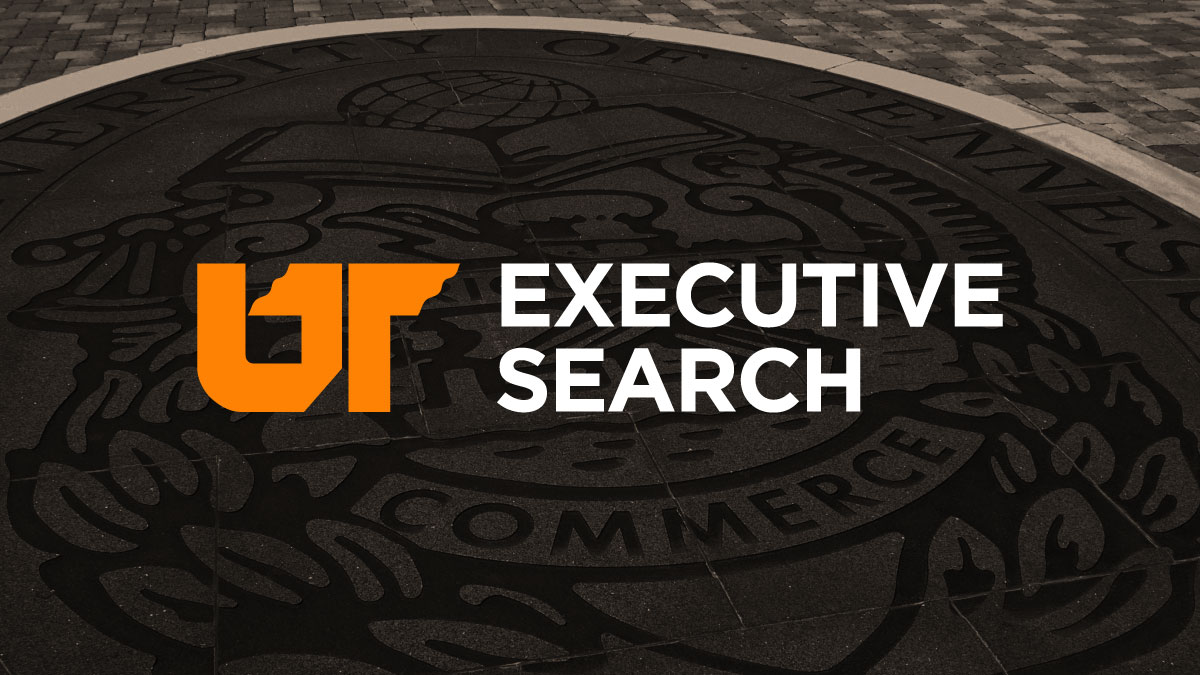 Four experienced higher education leaders from within Tennessee and across the country have been named finalists for the position of University of Tennessee vice president for academic affairs and student success. Interviews will begin Tuesday in Knoxville.
The finalists will visit Knoxville for meetings with members of the University's leadership team, direct reports and chief academic officers from across the UT System. Public forums will not be part of the process, but feedback about the finalists will be solicited through the search website. The job description and resumes for finalists also are available online. The position reports to Executive Vice President and Chief Operating Officer Tonjanita Johnson.
"Delivering quality education, enhancing the living and learning experience on our campuses and positioning our students for success in everything they do are central to our mission as a statewide system of higher education," Johnson said. "The vice president is critical to our ability to achieve our goals and is an essential member our leadership team.
"I was pleased with the quality and caliber of candidates and look forward to learning more about the finalists and introducing them to the University community during the final phases of the interview process."
The finalists are:
Risa Dickson
Vice president for academic planning and policy for the University of Hawai'i System from 2015 to present. Previously, Dickson spent 24 years at California State University, San Bernardino holding various leadership positions, including serving as associate provost for academic personnel from 2010 to 2014. Among other appointments, she was executive assistant to the president for planning and special programs from 2006 to 2010; associate dean for the College of Arts and Letters from 2004 to 2006; and chair of the department of communication studies from 2000 to 2004. Dickson earned a bachelor's degree in communication theory from California State University. She earned a master's degree in communication and a doctorate in interpersonal and organizational communication from the University of Southern California.
Linda Martin
Director of the Second-Year Transformational Experience Program at Ohio State University from 2014 to present. Martin also has served as the Sanford G. Price and Isabelle P. Barbee Endowed Chair for Teaching, Advising and Learning since 2010 and as associate dean and director for academic programs for the College of Food, Agricultural and Environmental Sciences at Ohio State since 2007. Previously, she served as assistant dean for academic programs for the College of Agricultural Sciences and Natural Resources at Oklahoma State University from 2002 to 2007. Martin began her career in higher education as a faculty member at Kansas State University, serving in the department of animal sciences and industry for 15 years. She earned a bachelor's degree from Ohio State University, a master's degree from Virginia Polytechnic Institute and State University and a doctorate from Colorado State University—all three in animal science.
John Omachonu
Senior vice provost for academic affairs at Kennesaw State University in Georgia from 2015 to present. Previously, he served in various leadership roles at Middle Tennessee State University (MTSU) for 11 years, including as vice provost for academic affairs and chief diversity officer from 2011 to 2015. Also at MTSU, Omachonu served as interim vice provost for academic affairs from 2010 to 2011; and interim dean of the College of Mass Communication in 2008 and associate dean for the college from 2004 to 2009. He chaired the communication department at William Paterson University in New Jersey from 2000 to 2004. Omachonu also spent approximately 20 years serving in various faculty capacities at Fort Valley State University in Georgia, Florida A&M University, Bethune-Cookman University in Florida and Howard University in Washington D.C. He earned a bachelor's degree in psychology and zoology, a master's degree in mass communication and a doctorate in mass communication—all three from Howard University.
David Rausch
Vice provost for academic affairs at the University of Tennessee at Chattanooga from 2016 to present and director of the School of Professional Studies from 2015 to present. Among other positions held during his approximately eight years at UT, Rausch served as associate provost for learning outcomes, assessment and accreditation from 2013 to 2016 and director and professor in the doctoral program in learning and leadership from 2010 to 2015. He currently holds a non-tenure contract appointment as an associate professor in the Richard DeVos Graduate School of Management at Northwood University in Michigan. Previously, he spent two years at Macomb Community College in Michigan, serving as director of the Center for Teaching and Learning from 2008 to 2009 and associate dean of learning outreach from 2007 to 2008. Prior to his career in higher education, Rausch spent approximately 25 years in the private sector, serving in various marketing and leadership roles. He served in the U.S. Navy from 1978 to 1982. Rausch earned a master's degree in business administration from Sanford University in Alabama and a doctorate in leadership from Andrews University in Michigan.
The successful candidate will work closely with campus chief academic and student affairs officers to oversee academic and student affairs for the UT System and coordinates mission statements, academic strategic plans, establishment and revision of academic organizations and the admission, progression and retention standards. The vice president serves as staff to the Academic Affairs and Student Success Committee of the UT Board of Trustees, the University Life Committee of the UT Board of Trustees and the Subcommittee on Non-Academic Programs.
Learn more about the search, committe and the finalists, visit http://tennessee.edu/execsearch/vp-academic-affairs/.
Tags:
Executive Searches
,
Featured
,
Vice President for Academic Affairs and Student Success