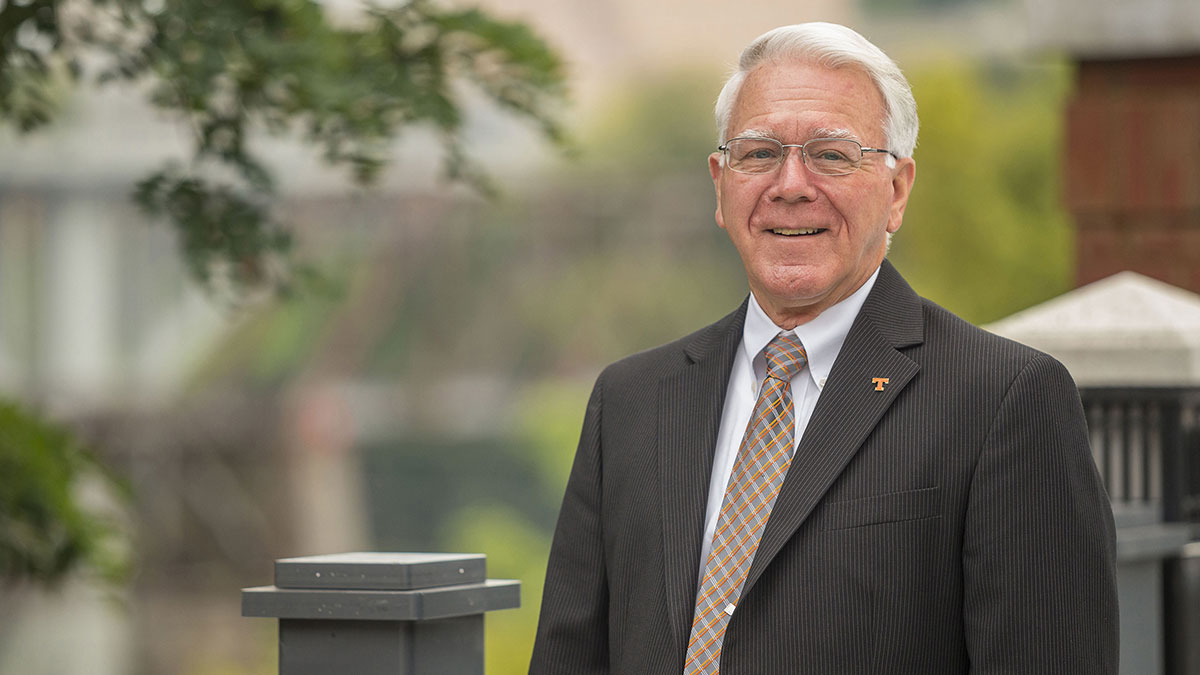 KNOXVILLE – Wayne Davis will serve as interim chancellor for the University of Tennessee, Knoxville, UT President Joe DiPietro announced today.
Davis has agreed to serve in the role for six to 12 months. He takes office on Monday.
"Wayne Davis is a proven and respected University leader who has served the flagship campus in numerous capacities for more than four decades. As its dean, he has presided over a thriving Tickle College of Engineering, growing in enrollment, research productivity and achieving new heights of national recognition," DiPietro said. "I greatly appreciate Wayne and his wife, Sylvia, postponing retirement to continue serving their alma mater during this critical time."
"It is always unsettling when there is a sudden change in a senior leadership position within the university, and this situation is no exception," Davis said. "The University of Tennessee holds a special place in my heart. As an alum, a faculty member and an administrator, I have been committed to this great University and its journey toward excellence for more than 45 years. I am deeply honored to be asked to serve in this interim role as the university identifies the next steps toward its search for a new chancellor."
Davis has served in faculty and administrative roles at UT for 44 years, including as assistant dean of the Graduate School from 1985 through 1988 and as its associate dean from 1988 through 1991. He became interim dean of the Tickle College of Engineering in 2008 before assuming the role permanently in 2009.
Davis' accomplishments as engineering dean include:
Substantial gift leading to naming as Tickle College of Engineering in 2016
Enrollment growth of almost 2,000
Near-doubling of doctoral enrollment and graduate rates
More than doubled endowed faculty positions, now 37, supported by $19 million in gift funds
Increase of 42 full-time faculty positions
Doubling of research expenditures to more than $70 million a year
Reaching the current fundraising campaign's initial goal of $150 million and extending it to $200 million
Opening of the Min H. Kao Electrical Engineering and Computer Science Building, the John D. Tickle Engineering Building, and a new $129-million Engineering Complex in design phase
Adding of four named professors of practice
Increasing partnerships and research with Oak Ridge National Laboratory and businesses throughout Tennessee
Both the number and quality of engineering students have increased during his tenure. Incoming freshmen have an average high school GPA of 4.05 and an average score of 30.5 on the math portion of the ACT. The percentage of women engineering students has increased from 16 percent to 21 percent—on par with the national average—and stands poised to increase with this next incoming class of freshmen.
Davis has been instrumental in fostering growth of the joint UT-ORNL Governor's Chairs program, with 12 of 16 Governor's Chairs having appointments to the college and all of whom were hired under his leadership.
In 2003, Davis was named University Macebearer, UT Knoxville's highest faculty honor. He has been recognized for his service and accomplishments by the U.S. Environmental Protection Agency, Department of Energy and Department of Transportation; the National Science Foundation, ORNL, and the American Society for Engineering Education. He is a fellow of the Air and Waste Management Association and American Society of Engineering Education and is a board-certified member of the American Academy of Environmental Engineering and Science.
Contacts
Gina Stafford
stafford@tennessee.edu
865-974-0741
823 Andy Holt Tower, 1331 Circle Park, Knoxville, TN 37996
Jennifer Sicking
jsicking@tennessee.edu
865-974-5179
P-265 Andy Holt Tower, 1331 Circle Park, Knoxville, TN 37996
Tags:
Chancellor
,
Featured
,
Joe DiPietro
,
UT Knoxville
,
Wayne Davis