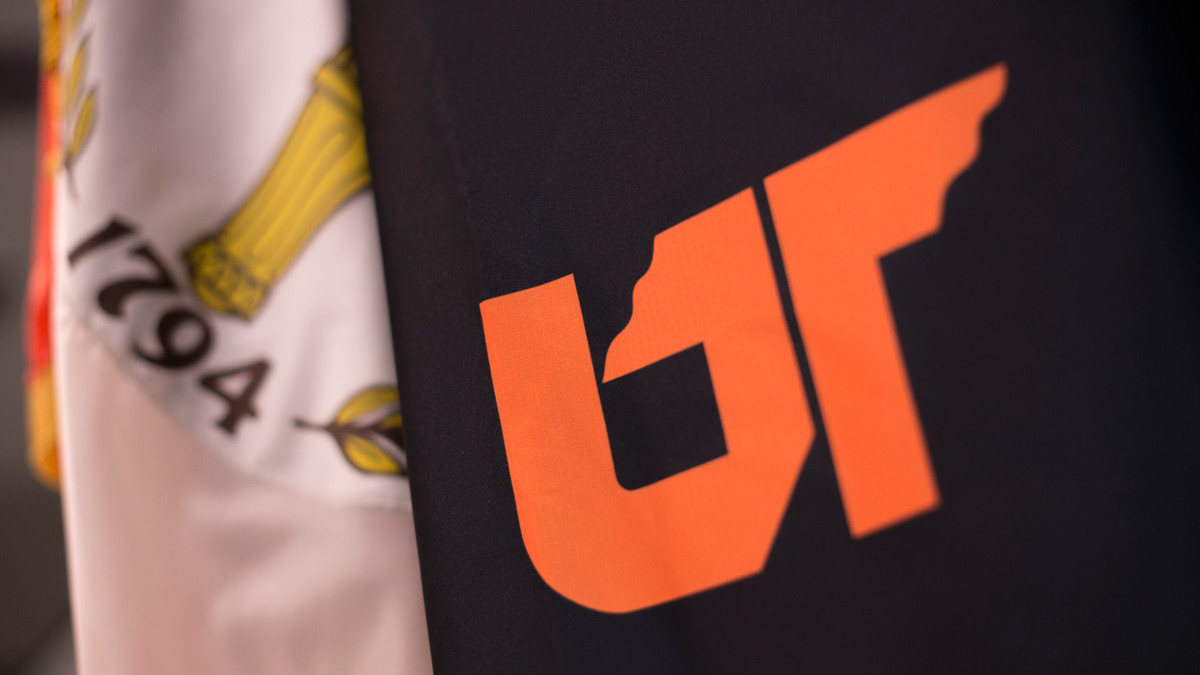 KNOXVILLE – A proposed reorganization related to the University of Tennessee Board of Trustees will be considered when the Board meets Dec. 15 in Nashville. The reorganization would separate the position of secretary from the position of general counsel. Catherine Mizell, who has held both positions for more than 16 years, will continue full-time as secretary and serve as chief of staff and special counsel for the Board, effective Jan. 1. UT President Joe DiPietro will recommend promotion of deputy general counsel Matthew Scoggins to general counsel, effective Jan. 1.
"Catherine Mizell is a trusted advisor who has performed at the highest level in dual and very demanding roles, ensuring the proper function of the governing body for the University and leading a team of highly effective attorneys who serve the entire statewide UT system," DiPietro said. "The UT Office of General Counsel is the best I've worked with for any higher education body, and that is largely due to the high standards Catherine has set for the team of legal experts she has developed over her 17 years of service as general counsel."
Mizell became general counsel on Jan. 1, 2000. Her predecessor continued serving as secretary through June 2000, and she has served in both capacities since. Activities and needs of the board have grown to a degree that requires a dedicated, full-time position with Mizell's experience and legal expertise, DiPietro said.
UT President Emeritus Joe Johnson, who recommended Mizell for the position of general counsel before she assumed it in 2000, described her as eminently qualified for her new role.
"Catherine Mizell certainly has full knowledge of the policies, procedures, and operations of the University of Tennessee Board of Trustees, gained from her long and distinguished service as general counsel and secretary to the Board of Trustees," Johnson said. "She also has a wealth of knowledge about the entire University of Tennessee. Therefore, she is eminently qualified to serve well as secretary, chief of staff, and special counsel to the Board of Trustees. Catherine is totally dedicated to the University of Tennessee."
Scoggins joined UT in 2008 as assistant general counsel and was named deputy general counsel in 2015. His experience with the University includes student and academic affairs, athletics, legislative affairs, constitutional law, and compliance with state and federal laws including laws on public records, student privacy, disability and employment discrimination, and sexual assault.
"Matthew Scoggins has offered expert and highly valued legal counsel on a wide range of matters for the University," DiPietro said. "He has the trust and the respect of his colleagues in the Office of General Counsel, our executive team, and those organizations and their leaders frequently engaged by the University. We are fortunate to have a successor for Catherine Mizell as UT general counsel from within the organization and an individual whose current years of service have given him the knowledge of the organization and qualifications to be highly effective in his new role from day 1."
Prior to joining UT, Scoggins was in private practice with Alston & Bird in Atlanta and Bass, Berry & Sims in Knoxville
Tags:
Catherine Mizell
,
Featured
,
Joe DiPietro
,
Matthew Scoggins
,
UT Board of Trustees