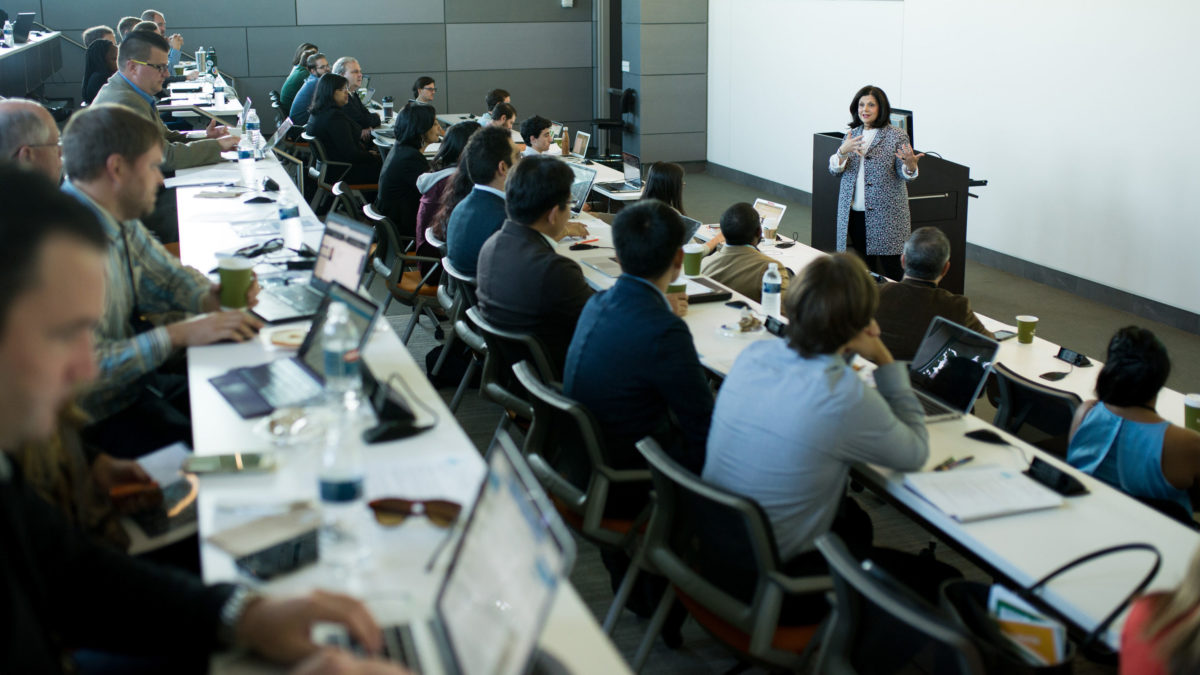 Photos by Adam Brimer
KNOXVILLE—Turning research into real-world solutions with market value is the focus of an intensive, three-week workshop that kicked off today at the University of Tennessee's Cherokee Farm.
UT Knoxville is hosting the event for the first time after joining the National Science Foundation-funded "Innovation Corps" program in June. For some participants with start-up ideas, there's a potential prize, too. NSF-funded grants of $50,000 are possible for participants whose ideas and plans for turning them into reality are deemed promising enough to win the cash to pilot them.
Scientists and engineers representing Georgia Tech, Louisiana State University and Tennessee Tech University are hearing from experts on thinking through and launching a startup. Participants will then conduct 20 customer discovery phone interviews to test their ideas with customers for evaluation.
The lineup kicked off with a welcome from UT Knoxville Chancellor Beverly Davenport.
"I'd like to spend every day welcoming innovators, inventors and entrepreneurs who are thinking about tomorrow and what kinds of needs can be met and what kinds of jobs are going to be created," Davenport said. "There's no better incentive than a need, a problem, around which to develop a solution. I'm excited that the University of Tennessee is bringing people together to think in terms of the end user, the applications and what use they might be."
NSF's I-Corps program began in 2011 as part of the federally funded organization's mission to help researchers think beyond the lab to opportunities for turning discovery into commercial ventures that benefit society. NSF has funded eight I-Corps sites, or "nodes," to increase participation and inclusion of underrepresented populations in its National Innovation Network. I-Corps sites provide infrastructure, resources, networking and training to move scientific discoveries from university labs to the marketplace.
UT joins Georgia Tech, the University of Alabama at Tuscaloosa and the University of Alabama at Birmingham as a member of the I-Corps south node. The UT Research Foundation and the Anderson Center for Entrepreneurship and Innovation at UT Knoxville are co-sponsors of I-Corps south.
The workshop underway now at Cherokee Farm, as is the case with other regional events involving hundreds of teams across the country, will let participants interview customers and businesses to answer the question: What do customers need and how does that align with our research?
"This program is a great introduction to the national I-Corps program and the resources available at UT to support researchers as they navigate the commercialization process," said Shawn Carson, UT I-Corps south program coordinator and lecturer at the UT Knoxville Haslam College of Business.
Carson is an instructor at the workshop, along with Maha Krishnamurthy, UTRF assistant vice president for licensing.
"I-Corps can open many doors and get participants started down the right path to opening a business or commercializing a technology," Krishnamurthy said. "We encourage students, faculty, and entrepreneurs to learn more about I-Corps and see how its programming can help them translate their research into a commercial product that can have a real impact on society."
I-Corps nodes support regional needs in innovation education, infrastructure and research, and they collaborate in building, using and sustaining a national innovation ecosystem. I-Corps south participants at UT Knoxville have access to resources and programming through the UT Anderson Center for Entrepreneurship and Innovation and the UT Research Foundation; knowledgeable instructors with hands-on experience in technology commercialization; and a broad, diverse entrepreneurial network.
The I-Corps south conference concludes on Oct. 19 with participants sharing what they have learned. By then, participants also will learn whether a proposed idea has been selected for grant funding.
"At my last university, 65 percent of students said they want to own their own businesses," Davenport told participants. "Is that you? Well, design away and bring it here. Come back here to graduate school if you're not in graduate school yet. My generation needs you, whether to build better highways or to develop better apps—who knows what solutions are yet to come out there?"
The University of Tennessee Research Foundation is a non-profit 501(c)(3) organization that promotes the commercialization of UT intellectual property, encourages an entrepreneurial culture, contributes to state and regional economic development and promotes research and education to benefit the people of Tennessee and beyond. While an entity separate from the University, UTRF provides assistance and resources to the research activities of faculty, staff and students of the UT system including campuses in Knoxville, Chattanooga, Martin, Memphis, Tullahoma and the statewide Institute of Agriculture and Institute for Public Service.
Tags:
Beverly Davenport
,
Cherokee Farm
,
Featured
,
Joint Institute for Advanced Materials
,
National Science Foundation