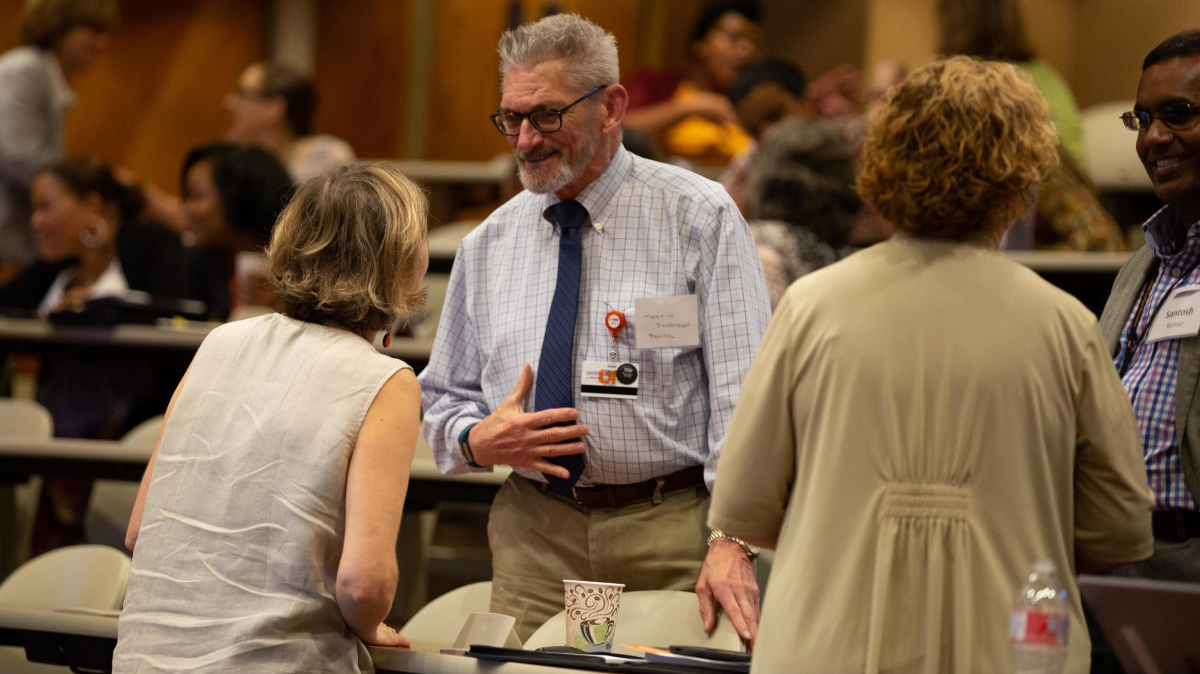 Faculty and staff from across the University of Tennessee System convened at the University of Tennessee Health Science Center Friday for a symposium focused on effective and quality online, blended, and distance course design.
The symposium titled, "Recognition and Reflection in Quality Course Design," was sponsored by the UT Office of Academic Affairs and Student Success, the Governor's Online Innovation Initiative, and the Tennessee Higher Education Commission. Faculty and staff from UTHSC; the University of Tennessee, Knoxville; the University of Tennessee at Martin; and the University of Tennessee at Chattanooga are attending the event.
The symposium emphasized teaching, including the essential pre-work of design and development of courses, and how it leads to student and faculty success. Presenters shared current information, provided guidance, and created faculty networking opportunities.
Events kicked off Thursday evening with a welcome and opening reception in the lobby of the new Center for Healthcare Improvement and Patient Simulation (CHIPS) on the Memphis campus. UTHSC Chancellor Steve J. Schwab, MD, and Lori Gonzalez, PhD, vice chancellor for Academic, Faculty, and Student Affairs, welcomed the guests to campus.
Linda Martin, PhD, the University of Tennessee vice president of Academic Affairs and Student Success, opened the symposium with remarks focused on the future of online and technology-enhanced instruction for the state and the UT System.
In her keynote address, Julie K. Little-Wells, EdD, the former vice president of the nonprofit educational organization EDUCAUSE, examined strategic directions, including how course quality is a differentiator in a competitive marketplace and a major factor in student success. She encouraged attendees to not only interact with their students, but to utilize faculty networks and resources. "Faculty success is fundamental to student success," she said. "Even if you fail at something, keep going. Connections made today are not the end, but just the beginning."
Concurrent sessions took place in the CHIPS. Areas covered include quality course design examples, active learning approaches, principles of accessibility and universal design for learning, and user-friendly courses with an emphasis on lesson objectives and course alignment. Focused activities allow for faculty to discuss their experiences and ideas.
India Lane, DVM, EdD, professor and former interim vice president for Academic Affairs and Student Success, formally recognized faculty and staff and highlighted the their accomplishments during a luncheon.
"We are coming together to talk about why and how quality standards are important to online, blended, and web-enhanced learning," said Karen Shader, PhD, associate director of the UTHSC Teaching and Learning Center. "We are also discussing the framework and standards that assure the quality design of courses, which is critical to faculty and student success. Most of all, we are taking time to say job well done to our faculty, who have participated in the Tennessee Higher Education Commission's grant activities focused on improving course quality and the student learning experience. We know it takes effort to design your classes and make them better."
Tags:
Academic Affairs and Student Success
,
Educause
,
Featured
,
India Lane
,
Linda C. Martin
,
Steve Schwab
,
UT Health Science Center